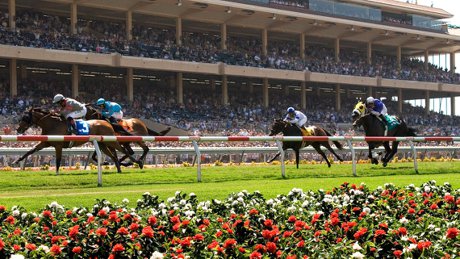 Where The Turf Meets The Surf!
Start saving your money and prepping your liver, because track season is upon us! The home of San Diego horse racing is where "the turf meets the surf," at the Del Mar Racetrack. This special and historical event goes way back to 1937, where Bing Crosby greeted the first guests, and Seabiscuit won by a nose in the infamous race in 1938.
Both locals and tourists come from all over to be a part of these races. There is plenty to eat, drink and it's always fun to place bets on your favorite horses. If the horses aren't exciting enough for you, the people watching alone should do it. Believe me, there won't be a dull moment, especially should you decide to come on Opening Day. This day in particular you'll see people dressed to the nines, huge fancy hats, and all walks of life mixed together having fun. If I could give you just one tip, it's don't wear anything you wouldn't want a cocktail spilled on.. if you follow me.
Opening Day takes place this year on Friday, July 16th, 2021. Last day of the season is Labor Day, September 6th, 2021.
Racing takes place on every Thursday, Friday, Saturday, Sundays, as well as Labor Day Monday (last day of the season).
Most racing days, first post is at 2:00 pm, Friday's is 4:00 pm
To get more up to date info, including online betting and all that good stuff, visit www.DelMarRacing.com